From the Principal's Desk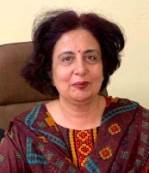 Dr. Meeru Abrol
"Education is a shared commitment between dedicated teachers, motivated students and enthusiastic parents with high expectation".
It gives me immense pleasure to welcome you to the website of Government Degree College Ramgarh. An online resource has been created that provides all relevant information about the College. I hope that as you peruse through the contents of this website, you will get sense of a rich flavor of life at our College.
Today the role of an undergraduate College is not only to pursue academic excellence but also to motivate and empower its students to be lifelong learners, critical thinkers, productive and earning members of an ever changing global society. We provide an atmosphere to students for multi facet development, where youth are encouraged to channelize their potential in the pursuit of excellence. The talent, skill and abilities of each student are identified, nurtured and encouraged by providing them with a platform to think, express and exhibit their skill by way of participation in different activities and events held from time to time. Converting each individual into a self reliant and independent citizen. We try to inculcate a skilled, innovation temper and a spirit of free enquiry. We are constantly thriving so that teaching methodology turns into a combination of classroom study, research and scientific discovery leading to innovation. The institution is devoted to prepare the students for life, groom them to face the challenges of tomorrow and encourage them to be socially relevant, so as to pass out as men and women competent to bear responsibility in all walks of life.